What's the life of an Indian Digital Nomad like? You wake up and don't really dread going to work. Not just because you like what you do, but also because you like WHERE you do it. Meet Monika Guwalani – one of India's first few digital nomads who's stepping out into the world of working from anywhere! Her journey to digital nomadism is nothing short of awe-inspiring!
The COVID-19 pandemic upturned the world as we know it and affected the idea of 'normal' for many, like shaking hands. Or moving in with that person you thought you liked. But most importantly, it revolutionised work globally. Professionals realised that they could get as much (or maybe even more) work done from home. So did Monika – a successful investment banker in India. Even after the lockdown restrictions were removed, she could not let go of remote work. She loved the idea of working from wherever she wanted to. She was good at it, so why should it end?
So that's what she did. After working for a while as an investment banker, she finally quit her job and became a full-time digital nomad. She's travelled throughout India, explored the pretty streets of Vietnam and was last spotted in Goa! Currently, she works independently as a freelancer, consultant, social media marketer, content creator and artist. She has her base in Singapore but she believes that the world is her home!
Taking the first step into digital nomadism
Needless to say, it was difficult at the start. As many employees experienced longer work days and a lack of professional boundaries, so did Monika. After a lot of back and forth and trial and error, she finally created a system that worked for her. 
"Investment banking isn't something you do remotely. I did feel like my company was throwing a lot of work but I'd give them the benefit of the doubt because managing employees who had suddenly gone remote is no cakewalk. Especially for professions where it was never foreseen. They did make up for a lot of things that weren't going well initially."
Today, she travels when she wants to and wherever she wants to without thinking twice about vacation leaves. 
NomadGao got the chance to pick her brain at the CYF event organised in Goa in collaboration with Nurall. Here are some interesting snippets from the conversation:
Where does she like to work as an Indian Digital Nomad?
Monika says she loves exploring new co-working spaces. "I love the charm of a quiet coworking space because that fuels new ideas. I also get to meet new and interesting people, collaborate with them (or not!) and build lasting friendships. Moreover, it's easier to set boundaries and get work done in coworking spaces."
What about office friendships and being around people?
"In the beginning, I did miss going back to the office and being around people. But then I decided to take the leap and travel. Instead of working from home, I chose to work from anywhere!" That's when things changed for her. 
"I realised that I didn't feel so sad about it anymore. For example, after a long meeting, I could always take a break, go outside, or play cricket for an hour to destress and it would be okay. Or I could finally go catch the sunset! The transition was slow but natural – I found my pace and dived right into it!"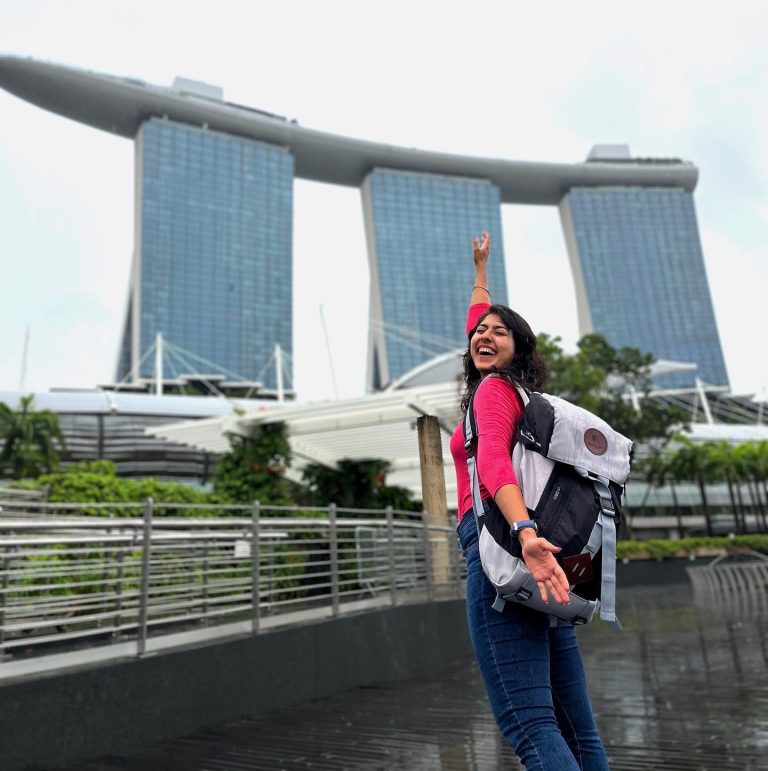 Where do you see yourself going from here?
"I see myself nomading for the longest time, not fixed or attached to a place. I believe the world is my home, and I want to watch sunrises from every corner of it. 
I am working on building myself financially and getting my investments up and growing, to support myself through the dream!
I also aim to connect and inspire people to look at this lifestyle in a more attainable way. My work is dedicated to helping more Asians to live this lifestyle and break all inhibitions around it!"
What's one piece of advice you'd give to digital nomads just starting out?
Beta-test it. Don't say "no" too much. I didn't know this life was for me but I fit right in once I tried it out. But don't be hasty. Take some time off, have some savings and figure out what works and what doesn't. For example, I tried out a bunch of things and when I found out what works for me, I sold my stuff and decided to live out of a backpack. This lifestyle is not as glamorous as it seems so you need to take it slow and figure out what works for you.
What has your experience travelling as a woman been like?
I've been lucky to meet nice people throughout my travels. I have been road-tripping across India and got stuck in a place. People helped me out in a lot of situations. Once when my bike broke down, a local made sure I got home safe. They helped fix my scooter and made sure I got home safely. These were not people I knew. They were just strangers who showed me kindness in my hour of need. You need to be cautious and aware and yes, we need to be safe travelling as a woman but a little faith can go a long way in making travelling smooth sailing for you.
India has been fast-growing as a digital nomad destination. Why shouldn't it? It's perfect. We have a rich culture, great food, network connectivity and so on. I've been lucky to experience and explore India as a digital nomad. We're building up that space and the community for global digital nomads in India. I want to keep working on promoting India as a digital nomad hub that's on par with international destinations. We're not far from realising this one dream.