I feel nostalgic and excited at the same time. 
It's a strange feeling.
The one that follows you when you leave one dreamy place for another. It's a familiar one to most digital nomads.
Back in 2019, a jobless and broke me looking for something exciting stumbled upon a little villa in a quiet alley in beautiful Assagao. Like a lot of decisions in our life, my wife and I decided to start a coworking-coliving place there. That too without spending a lot of time making the decision. We borrowed from friends to get started. While I spent 12-14 hours freelancing every day to pay the bills and to invest in the business, Joy set up the place. She toggled between that and keeping an eye on then-a-year-old Anvi.
We went to the local markets, nurseries, and even scrap stores to find whatever we could use to decorate the place. Being low on a budget meant we couldn't hire an artist for murals. Joy painted some and Leo and Tamas volunteered to do some more. Gaju Bhaiyya (the caretaker) painted the walls while setting up the garden and taking care of the plants. That's how a 5-room villa in a residential neighborhood turned into India's first dedicated digital nomad destination.
But this is where the remote work revolution in India started
Soon after, digital nomads from all around the world started coming over, organically. (We didn't really have any time or skills to do any marketing). We became Airbnb super hosts right off the bat and in the first 6 months, we hosted digital nomads from 15+ different countries. Most of them extended their stays and ended up becoming some of our closest friends. Joy and I were the community facilitators, the operations managers, the front desk, and sometimes housekeepers too. As an outsider in the hospitality industry, we learned almost everything from scratch and are still in that process. I decided to quit my freelancing gig a few months after. Little did we know that the pandemic was around the corner. 
NomadGao's survival through the COVID-19 lockdowns
Suddenly, international borders were closed. Pre-pandemic, there were hardly any digital nomads. We were in a sort of existential crisis during the first lockdown with 3 nomads from 3 countries stuck at NomadGao, presumably happily. Soon after the lockdown was lifted, we were full again in no time, this time mostly with Indian digital nomads. We doubled down on our mission to curate spaces and communities for digital nomads and professionals to enable them to work closer to nature.
Our community supported us wholeheartedly through crowdfunding and we grew from 5 rooms in Assagao to 23 rooms in 3 locations. We knew it was not going to be easy in the short run with a lot of uncertainty around lockdowns but we had our eyes firmly on the future we wanted to see us contributing to. The best way we could do that was through building communities and spaces in an increasingly digital and isolating world. 
The story of NomadGao Assagao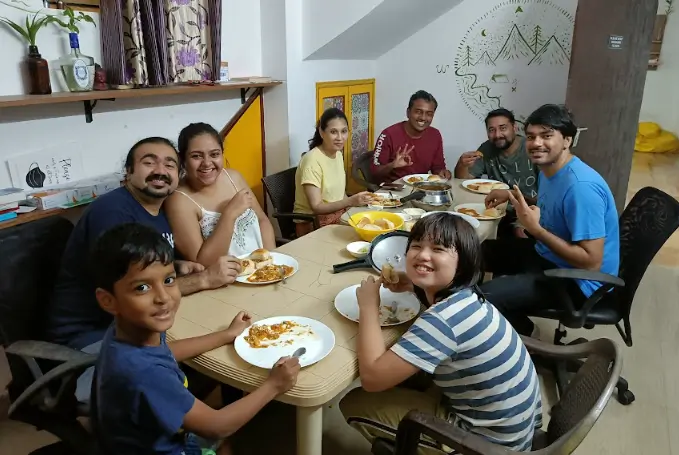 Assagao was started as an owner-run business and it was perfect for it due to the intimate setting. However, as we grew, we realized that it wasn't ideal for building more diverse communities due to its limited size. A bunch of construction projects around also made the location noisy. We tried hard to live with these challenges but we had to take a call on living with the baggage or leaving with sweet memories. 
As we close down Assagao, I want to thank all of those who gave us a chance to host them and made NomadGao what it is today. You were guinea pigs, the OGs, the pioneers. 
But here comes the exciting part!
NomadGao is all about balance. Last year, we opened Dharamkot to give our community the balance between the beach and the mountains. Now, we are stretching it further to give the balance between buzzing Dharamkot and remote Himalayan villages to experience the sound of silence. True to our roots, we want to enable people to work from anywhere. Our bold attempt to be in the middle of nowhere. Because that's where the magic is. 
Oh wait, it's in the middle of an apple orchard in a Himalayan village. It's in the middle of majestic mountains. It's in the middle of peace. Oh. I forgot the plum trees. Welcome to NomadGao Plum Paradise, Rumsu. It's just 3 kilometers away from artistic Naggar. 
The property is nicely made in traditional Kath Kuni architecture, overlooking the bias valley and the Dhauladhar and Pir Panjal ranges of the Himalayas. It is a perfect getaway for those looking for deep work or a team sprint. Looking to write that book for months or do you want to connect deeply with yourself and nature? This is a perfect place. For adventure seekers, India's highest zipline and plenty of treks start from not too far.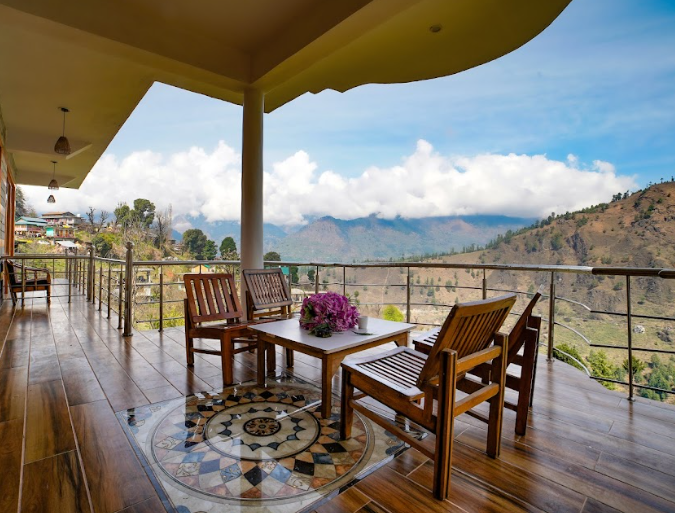 Plum Paradise Naggar was created keeping in mind the digital nomad creator. Its remote location, abundant space and curated quiet corners are perfect to get your creating. And when you need an escape, you can find a hundred ways to lose yourself in the mountains.
Work. Create. Unwind. Flow. Let Naggar's sway guide you to create more balance in your life. Ready?